CREATIVE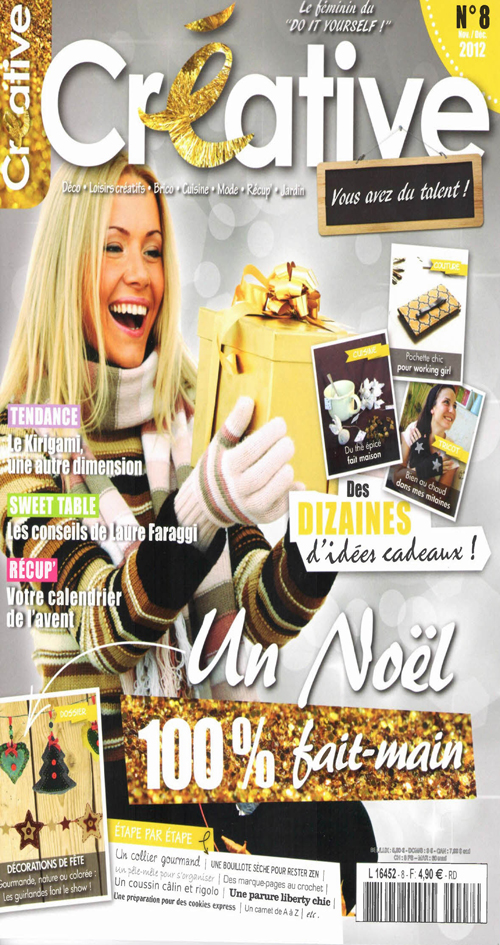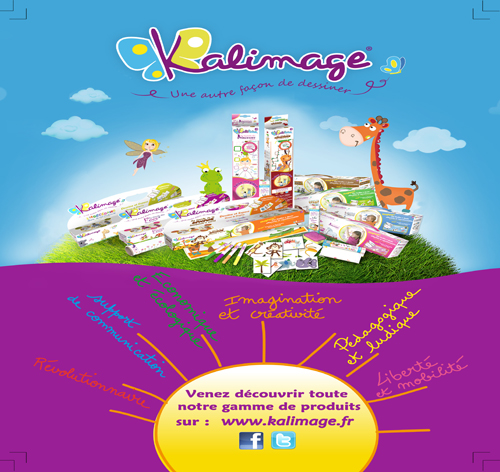 ---
PETITES MAINS Milan Presse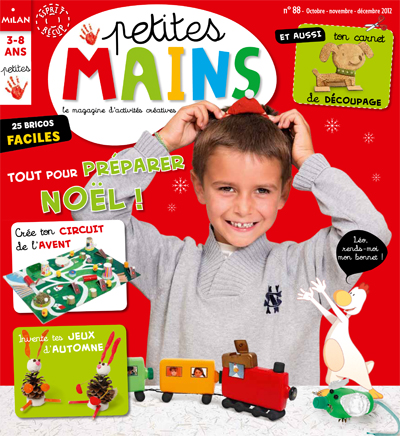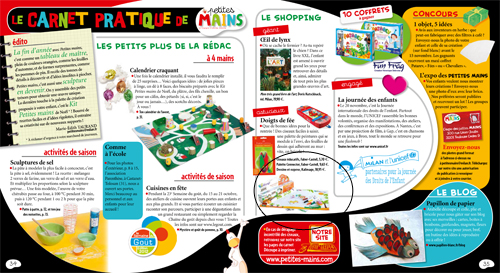 ---
BUBBLE MAG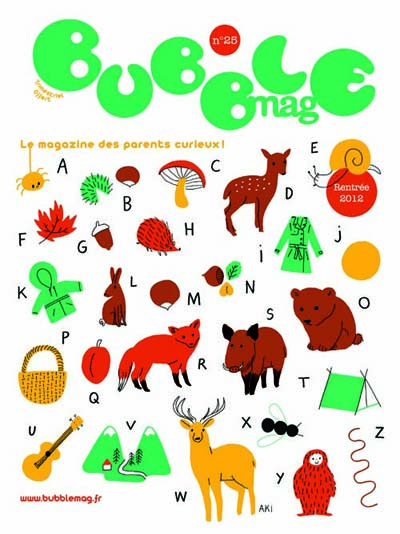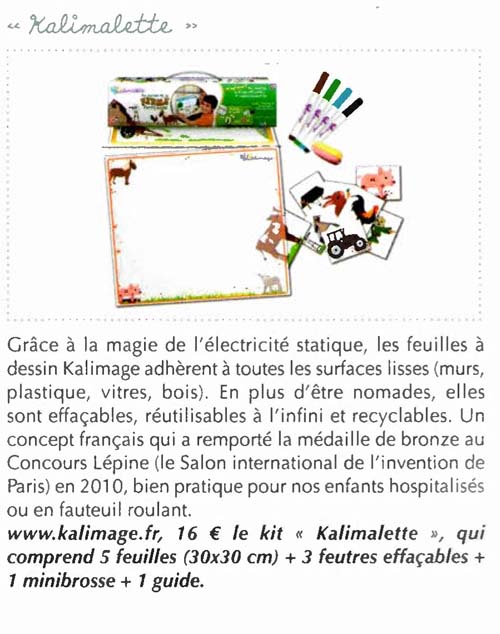 ---
NLA CREATIONS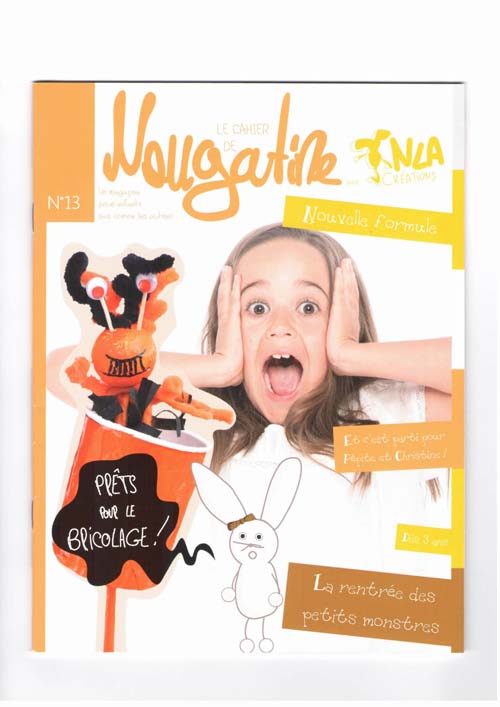 ---
CREATIVE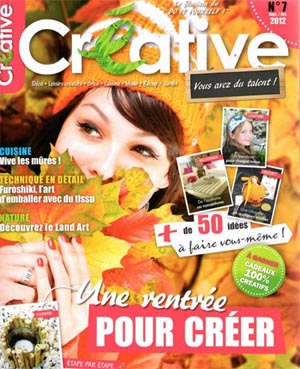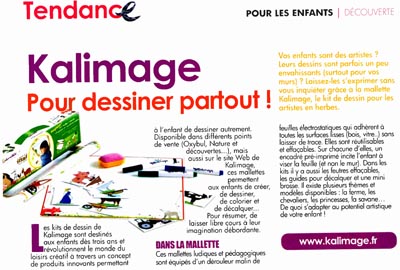 ---
CREATIVE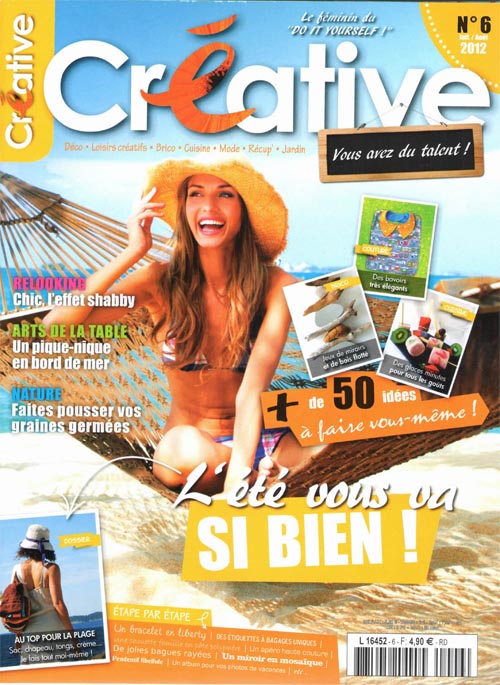 ---
DECLIC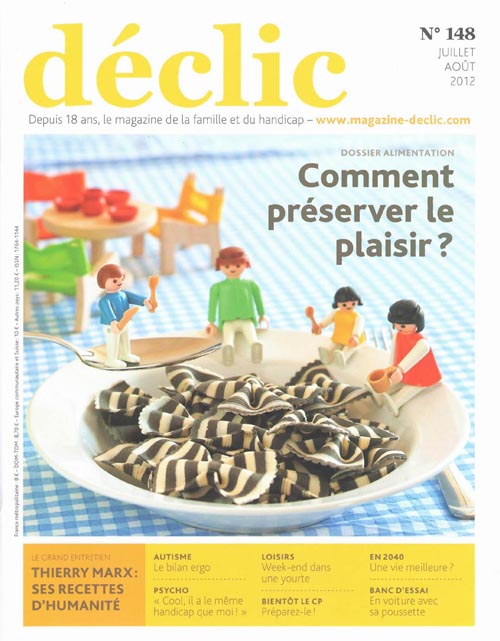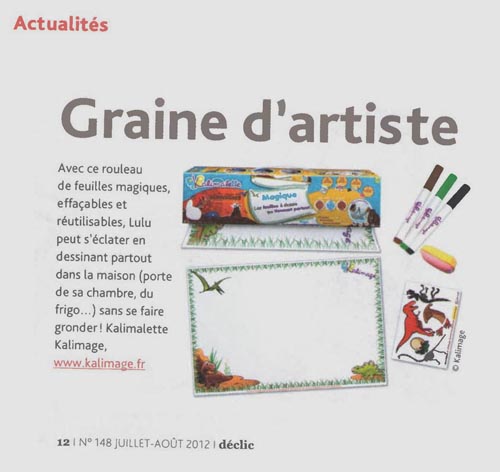 ---
IDEAL BRICO JUNIORS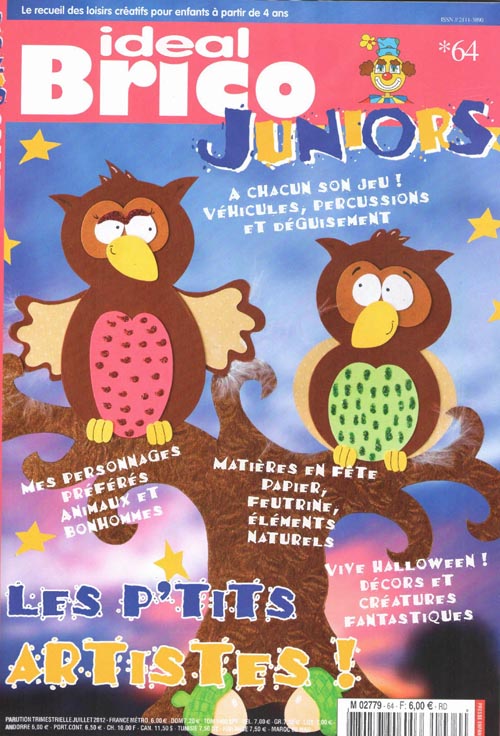 ---
PAROLE DE MAMANS
---
TECHNICAL LETTER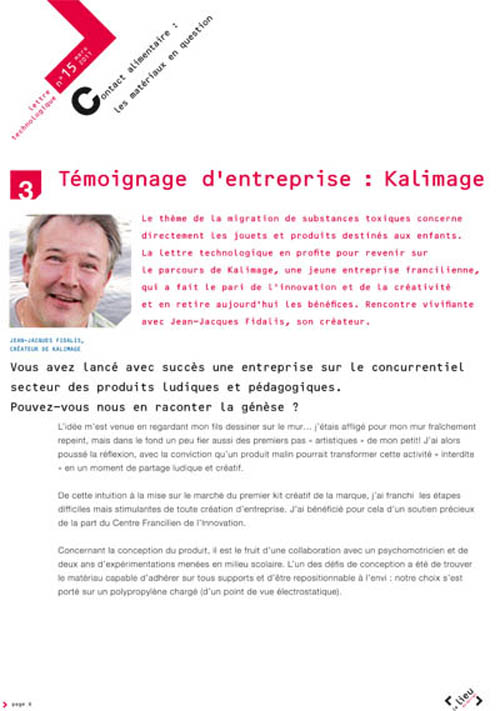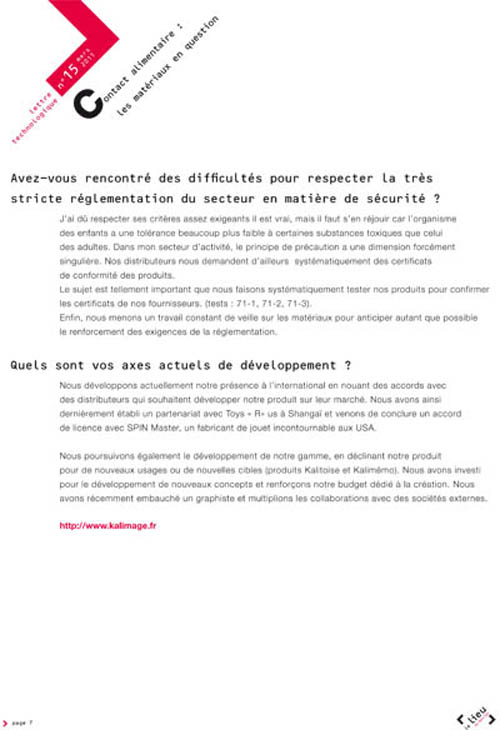 ---
DECO DESIGN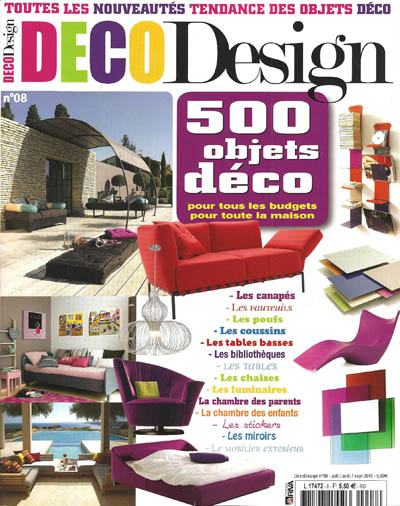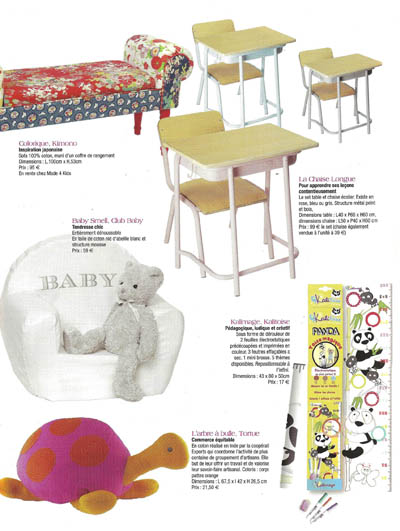 ---
ESPRIT BEBE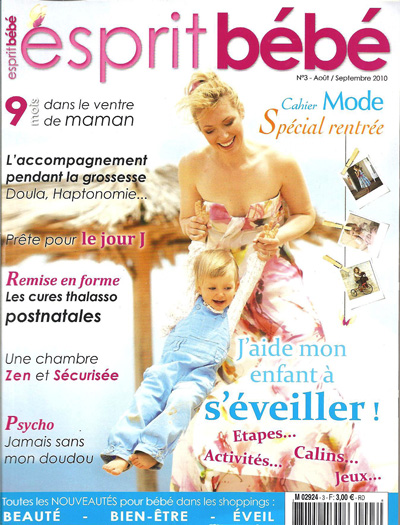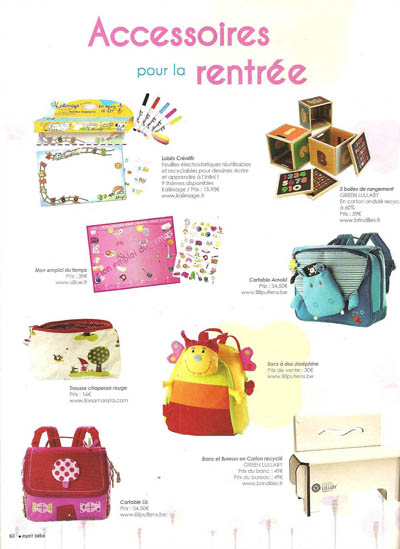 ---
VOTRE BEBE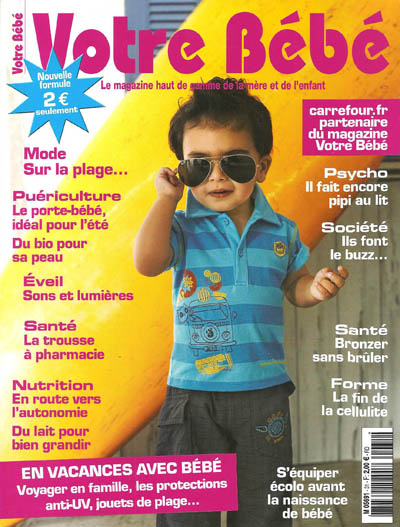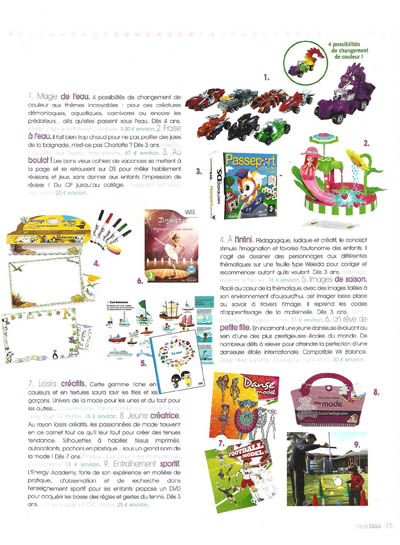 ---
NEUF MOIS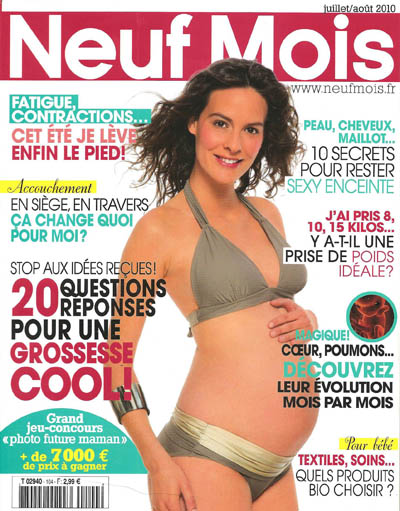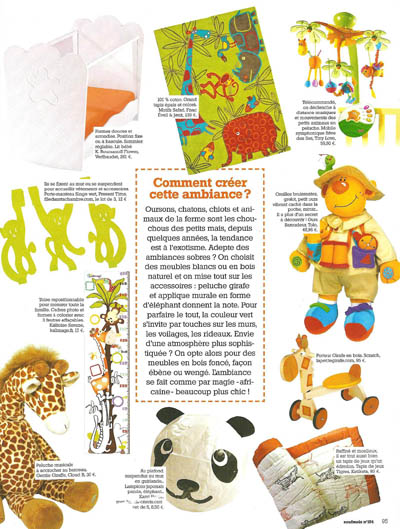 ---
MAISON ACTUELLE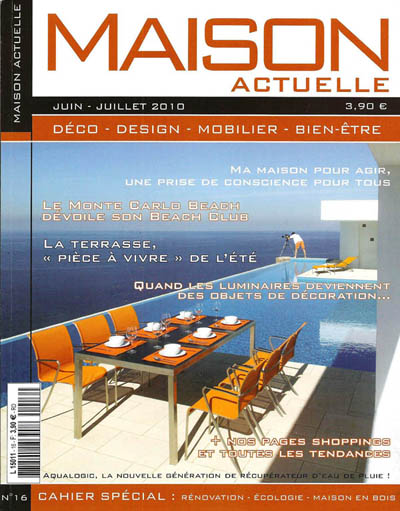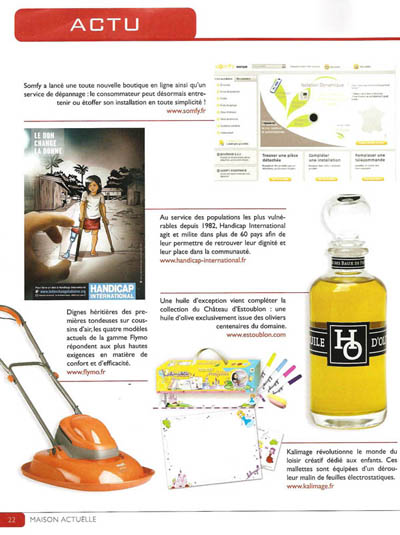 ---
ENFANTS MAGASINE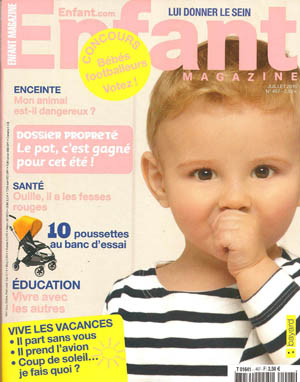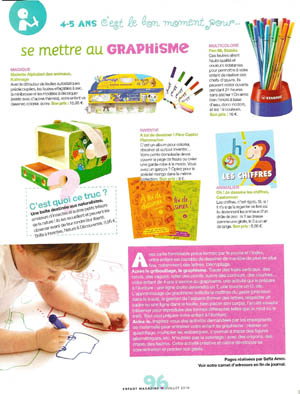 ---
INFO BEBE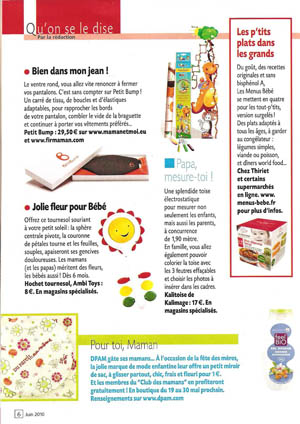 ---
BEBEZINE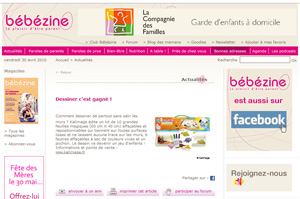 ---
MODES ET TRAVAUX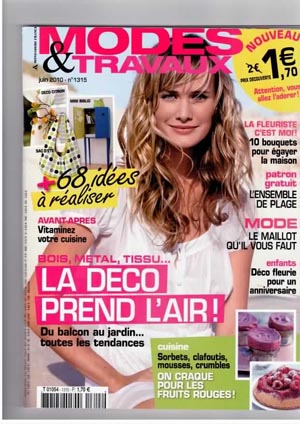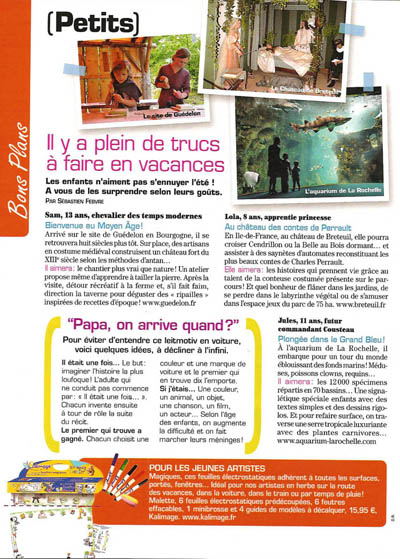 ---
COTE BEBE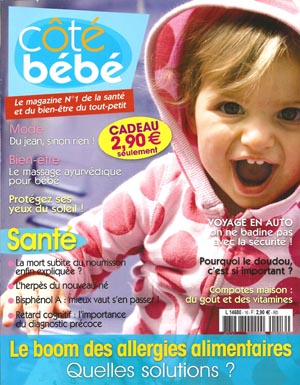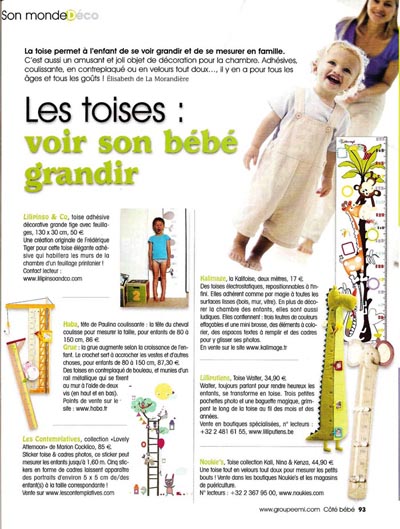 ---
FRANCE SOIR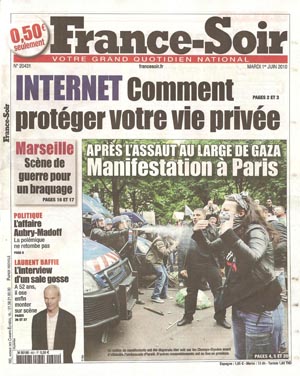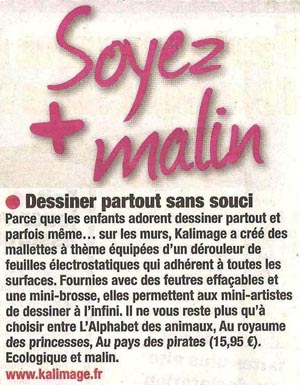 ---
MILLEMARIAGE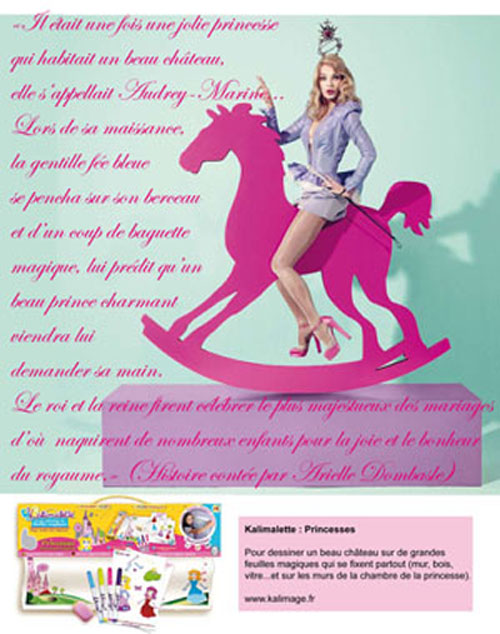 ---
MAXI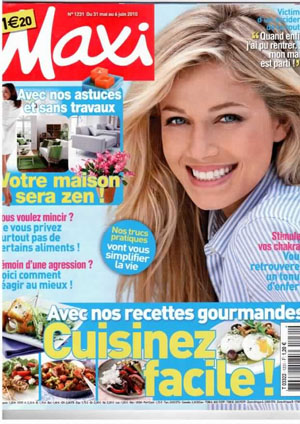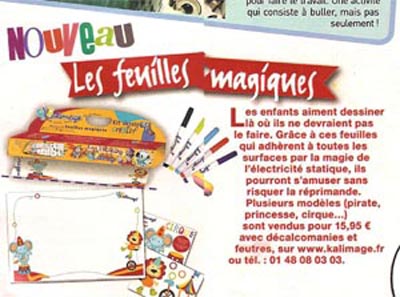 ---
PARISCOPE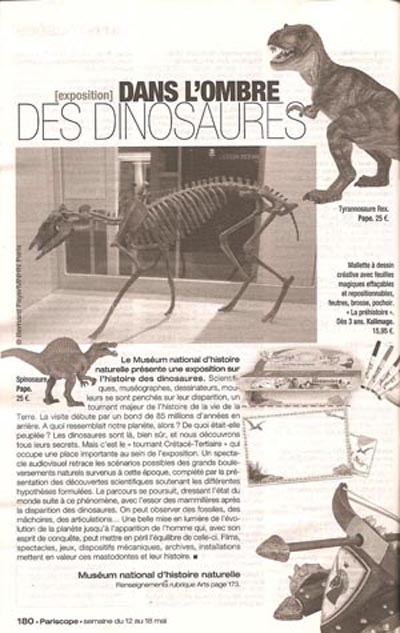 ---
Le Quotidien du Medecin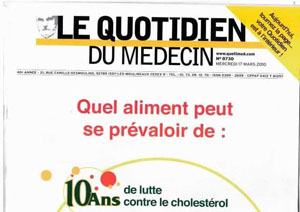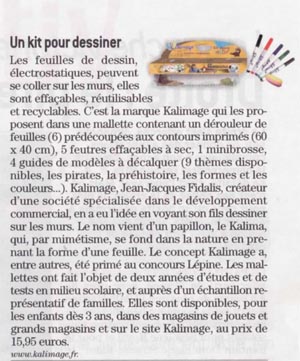 ---
DIRECT SOIR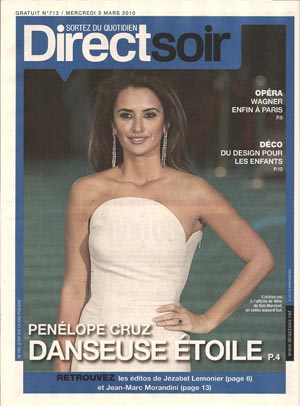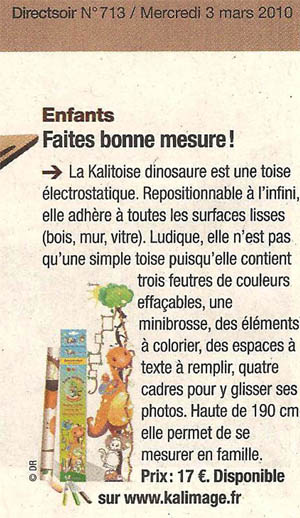 ---
CREAPRO


View the PDF article - 0ko
---
MON FUTUR BEBE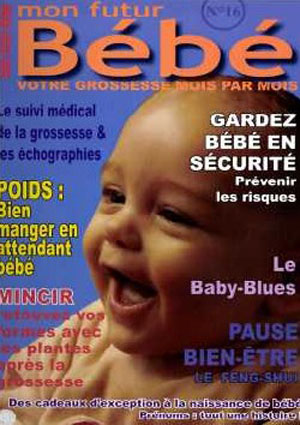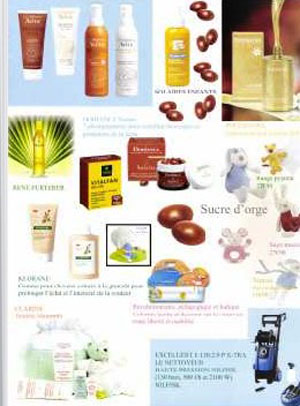 ---
ARTS-MANUELS



Our company KALIMAGE is specialised on the market of creative leisure, for children from 3 to 12 years old. The concept proposed by KALIMAGE is unique on this market: the first "suitcase", butterfly shaped which contains more than 10 meters of huge magical sheets which can hang on any smooth surface (wood, windows, paper wall).

Mister Jean-Jacques FIDALIS won the silver medal for his invention "the Kalimage suitcase", to the French contest "CONCOURS LEPINE 2008" and he was also rewarded to the SMAC FAIR 2009 with the gilded "Smac" for innovation in the category of decoration and manual activities for children.

Acclaimed by mums and dads, everything is allowed: children will be able to draw, to write, to colour on the walls freely.

Kalimage also proposes thematic suitcases on the same basis than the original suitcase but the sheets are stamped according to the theme and the felts have different colours. It includes as well the small brush and the guide which enables children to trace and to learn while playing

www.artsmanuels.fr/artComplet.asp?artEnvoye=206
---
MON FUTUR BEBE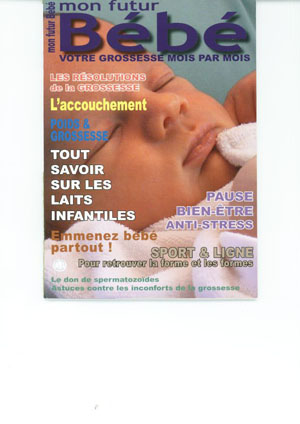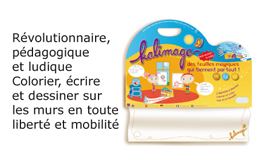 ---
PRIMA NOV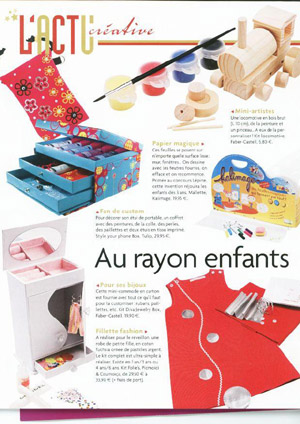 ---
SOCIAL CE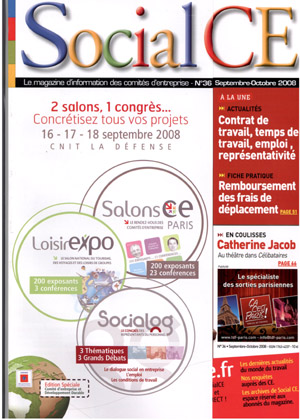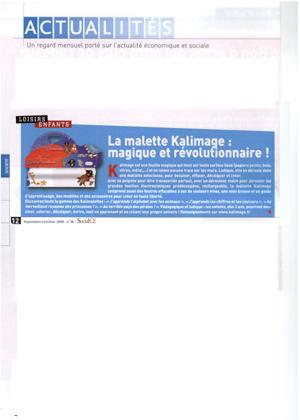 ---
LA TRIBUNE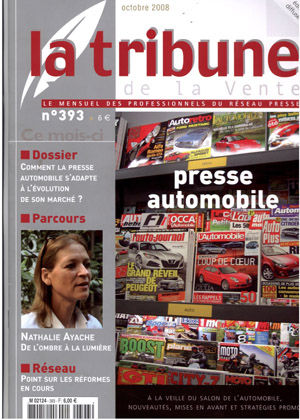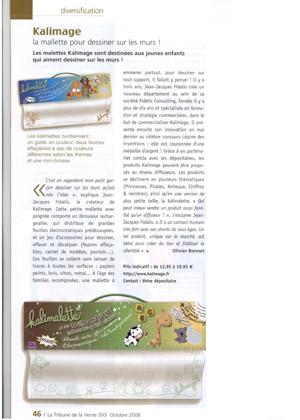 ---
Coté Bébé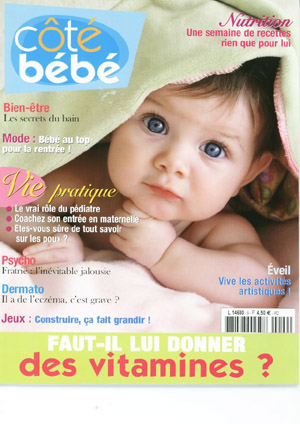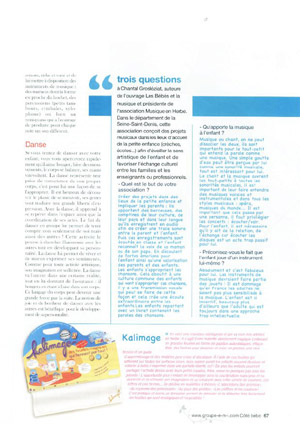 ---
Version Femina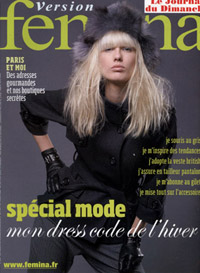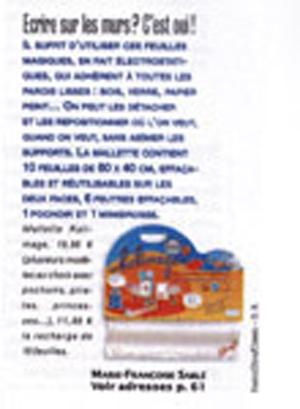 ---
Grandir Autrement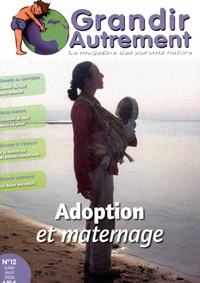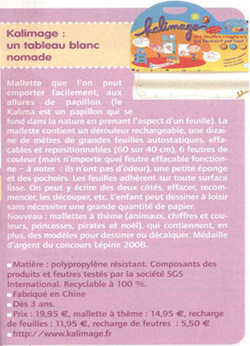 ---
Bleu Ile de France - C'est bon à savoir
---
femme en ville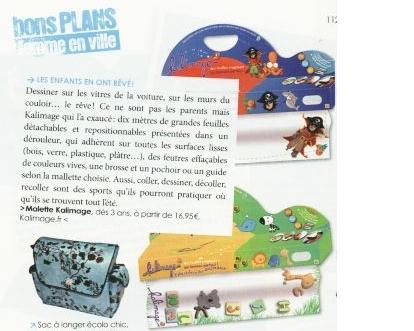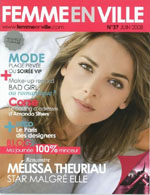 ---
parents





A special kit to draw on walls

The Kalimalette suitcases contain everything so that the children can draw, write and color on walls safely.
A paper roll is included which permits to remove large pre-cut sheets that stick on every smooth surfaces: wood, windows, wall-paper...
Children will have a great time thanks to the erasable felts and the stencils included in the suitcase.
This invention received the silver medal at the Lepine competition in 2008

The Kalimalette suitcase, 12,95 euros. From 3 years.

www.parents.fr/parent/vie-pratique/loisirs-enfant/coups-de-coeur/un-kit-special-pour-dessiner-sur-les-murs/(gid)/146890
---
top-parents








With Kalimage, your children's drawings will be part of the decoration according to their overflowing creativity. In this suitcase, with bold colors and looking like a butterfly wing, children will discover a packet of six erasable felts, a small brush, round-ended scissors, a small stencil, and a paper roll with pre-cut sheets that can be easily remove. The sheets are electrostatic, so they stick on most of the surfaces (wood, windows, walls...) without leaving track. No need of glue or drawing-pin!

Children understand quickly the functioning of the paper roll, and here they go for about ten of drawings! They can exhibit their little masterpieces or cut cute patterns to decorate the room or the windows. The large size of the sheets permits to several children to draw in the same time. After, they can put everything back in the suitcase, and bring it with them everywhere.

The suitcase is refillable, it is possible to buy felts or paper roll alone. Besides the classical suitaces, you can find from now on, four new suitcases with thematics: "I learn the alphabet with the animals", "I learn figures and colors", The kingdom of princesses", and "The country of pirates". Those suitcases have more stencils, printed sheets, and a learning guide according to the different themes.
www.top-parents.fr/test/jouet/kalimage.html
---
MODES ET TRAVAUX
AVRIL 2008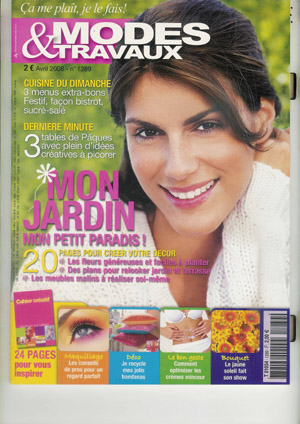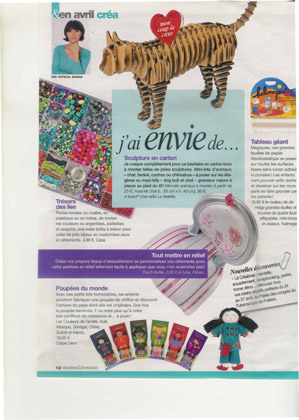 View the PDF article - 0ko
---
coté bebe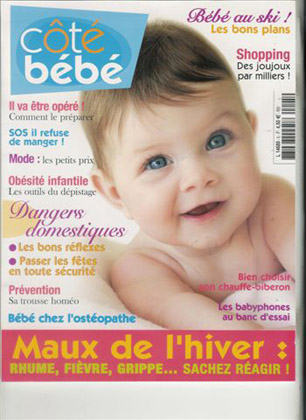 Décembre 2007-janvier 2008

View the PDF article - 0ko
---
prima



novembre 2007

View the PDF article - 0ko
---
parents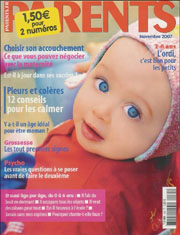 2007 novembre

View the PDF article - 0ko
---
Enfant magazine



Enfant magazine, Octobre 2007

View the PDF article - 0ko
---
Femme actuelle



Femme actuelle, octobre 2007

View the PDF article - 0ko
---
latribune






Gribouillis sur les murs
Que celui qui n'a jamais gribouillé sur les murs de l'appartement familial se lève ! Enfant, nous trouvions l'idée très drôle mais aujourd'hui déplorons la créativité sauvage de notre descendance... Pour y remédier voici l'idée du siècle testée entre autre en centres de loisirs : Kalimage et ses méga grandes feuilles magiques. Une mallette en forme d'ailes de papier rechargeable composée de feuilles blanches effaçables à fixer sur le bois, le verre, les murs, les sols sans ruban adhésif. Aucune trace à déplorer sur votre nouvelle déco ! Ces feuilles magiques comportent un encadrement pré imprimé pour inciter l'enfant à ne pas déborder, des feutres effaçables, un tampon effaceur et une paire de ciseaux. Ce kit léger, pratique et peu encombrant permet d'être emporté partout.



www.latribune.fr/info/Fin-des-vacances----~-ID76A1656E01952473C125738D003A1D44
---
PAROLE DE MAMANS


Numéro "Spécial papas",Septembre,Octobre,Novembre 2007

View the PDF article - 0ko
---
1,2,3 BOUTCHOU

jeu.123boutchou.com/boutique-mallette-kalimage.html
---
LE JOURNAL DU DEVELOPPEMENT DURABLE



Septembre 2007

View the PDF article - 0ko
---
KIDEXPO



Newsletter numéro 11, juin 2007

View the PDF article - 0ko
---